The international scientific conference EMC Europe was 2014 held for the first time in Sweden, and Gothenburg as the host city. Participation was record high, both in number of participants and the number of countries represented. Sweden displayed great width of 28 qualifying contributions which several aroused great international interest.
EMC Europe is after the IEEE International Symposium on EMC, the world's largest EMC conference and the competition to host it is therefore hard. The conference 2014 was held for the first time in Sweden at the Swedish Exhibition Centre in Gothenburg 1- 4 September. The core of the local organizing committé consisted of Jan Carlsson (SP) – Conference Chair, Dan Wallander (Just Event) – Exhibition and Sponsorship Chair, Peter Stenumgaard (FOI) – Technical Program Chair and Christer Karlsson (SP) – Conference Co-chair.
SP Technical Research Institute together with Just Event had the main responsibility for the arrangement, and can look back on a very successful conference.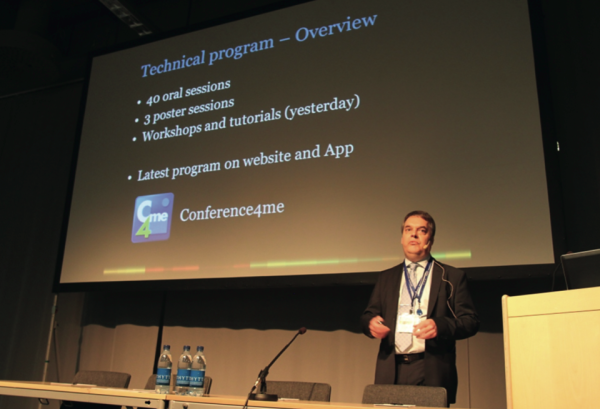 A total of 159 oral and 68 poster presentations were presented. In addition, there was 19 presentations in specialized sessions and workshops. Four tutorials of course character was carried out for the different fields of EMC. The number of registered participants was 524 from 50 countries and 36 exhibitors took part. The previous record of participants (470) were from when the conference was held in Rome.
The general consensus among the participants and organizers so far, have been that the record in Rome, in practice, would be impossible to surpass. This is of course due to that many participants go to the "city of seven hills" even for a tourist's trip. However, Gothenburg reached more participants than Rome and brought a lot of attention at the conference.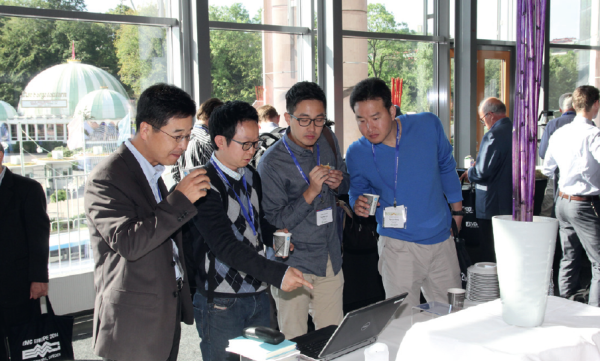 The contributions ranged over a very wide range of themes. Classic EMC areas were mixed with growing trends. Among the trends that could be seen on the conference was continued increasing interest in Intentional EMI that comprises various methods of  intentionally using electromagnetic radiation to interfere with or destroy electronic components and systems. From previously been focused most on High Power Microwaves (HPM), other methods of deliberate interference, including interference with wireless systems are covered. EMC issues for printed circuit boards and integrated circuits tends to increase and several sessions dealt with this area. In 2015 a special EMC conference, EMC COMP will be held on this theme in Edinburgh.
Another trend that could be seen was that EMC issues for wireless communications continues to increase and especially the vulnerability against interference of civil wireless systems. The EMC area was formed about 100 years ago precisely as a result of concerns that the new broadcasting services might be disrupted by electronics in homes. Today, the interest on the corresponding issues has begun to grow in order to investigate how future wireless technologies are affected of radio interference. This is because more and more critical services are transmitted via wireless technology.
Even in the automotive applications, this trend is increasing, partly due to the ongoing development of Intelligent Transportation Systems (ITS). A special part of this includes services for Active Road Safety where wireless technology plan to be used as e.g. speed control in vehicles columns, warning collisions and obstacles along the way. One particular standard, IEEE 802.11p, is a technology specifically developed for these services and has also been assigned its own frequency band (5.85-5.925 GHz). In this area, SP, Volvo, Volvo Cars and FOI were involved with two contributions that gained a lot of interest.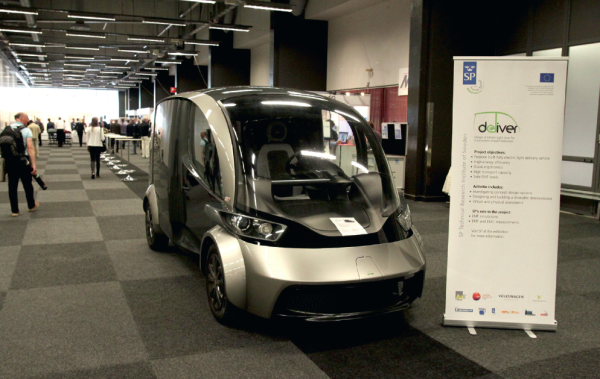 News for EMC Europe 2014 were also topics EMC in the security and military applications. Both themes gathered separately about a dozen contributions from several countries. From Sweden, the Swedish Defence Research Agency (FOI) together with Chalmers University of Technology, were the two actors who participated with the largest number of contributions (seven each). Sweden also contributed with one of the three keynote speakers who opened the conference.
Here it was the internationally renowned Dr. Karl-Gunnar Lövstrand who gave an overview of how the EMC challenges were resolved within the JAS 39 Gripen aircraft programme in the 1980's and 90's. This were very tough EMC challenges as a compact platform, partly built of composite materials and with a large number of qualified electronic board, would be verified against both lightning and a number of qualified military threats.
The wide and qualified EMC expertise built up during the JAS project still lacks precedent in the Swedish industry and is still utilized in Sweden through the individuals who are still working in the area.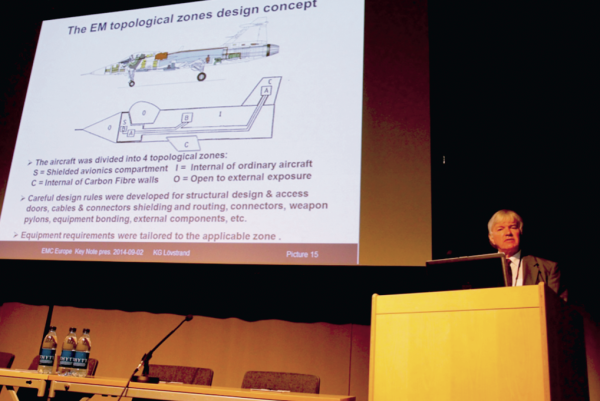 Dr. Marco Klingler and Ariel Lecca from PSG Peugeot Citroen held the second keynote presentation as a highly appreciated dialogue talk over EMC work everyday challenges. The third keynote was delivered by Dr. Chris Holloway from the National Institute of Standards and Technology (NIST). He presented a new method to measure electric fields by utilizing the interaction between electromagnetic waves and Rydberg-excited atoms of alkali metals. The measuring method permits measurement of low electric field strengths over a wide frequency band. Halloway said that this method was the only one that could perform calibrated measurements of the electric field strength at frequencies above 100 GHz.
Competition for the award for best contribution was fierce and several very qualified contributions were presented. The prize for the best contribution went to Mitsubishi Electric Corporation, Japan, with the paper "A GHz band Gasket-Free Electromagnetic Shielding Structure with Built-in Cascaded SIW Resonators", authored by Satoshi Yoneda, Yasuhiro Shiraki, Yuichi Sasaki, Naoto Oka and Hideyuki Oh-hashi. All authors were also rewarded each with a cell phone donated by Huawei.
URSI Commission E-financed three travel grants (Student Travel Grant) for students who presented the contribution of the EMC Europe 2014, were given. These contributions were much appreciated by the recipients consisted of:
Ala Ayed, IMS Laboratory, France
Georgios G. Pyrialakos, Aristotle University of Thessaloniki, Greece
Marian Nicolae, University of Craiova, Romania
Peter Stenumgaard
FOI